G2 Gamma product
Before we explain the Gamma, allow us to clarify two points:
First, our Executive Staffing "services" are also considered a G2 "product". Hence, this page will be replicated in both the services and products sections.
Secondly, G2 is a management and strategy consultancy that now offers – on an exception basis – executive staffing. Yes, this is a new product, and yes we're all revved to help many mHealth organizations fill their vacancies. However, because G2 is a one man show, before accepting a staffing assignment we must first give priority to our annual retainer clients. This does not mean we can't help; to the contrary. All we are saying is G2 has to individually review every staffing position carefully to determine the specific time requirements and whether they fit our schedule. i.e., If G2 is 75% booked and a full time staffing position is offered, well, do the math – we couldn't take it. But, if your firm could manage on a 25% FTE basis then please let us know where to sign! In our mind, a 25% FTE whiz-kid is a whole lot better than nada. Capisci? Good, now let's move on…
To follow, please find a brief overview of our three types of Executive Staffing products. For more information, please see our rate table that provides a very detailed head-to-head comparison of all G2 products.
Subcontract staffing
Under a standard subcontracting engagement, Joseph is typically retained by another consulting firm that requires our expertise on a specific project or to fill an executive vacancy. We negotiate a fair per diem rate, sign a contract, secure a deposit and viola – the work begins. Often, Joseph is visible to your clients and is introduced as an "Associate". But the choice is yours. If you want G2 to be transparent, you may want to consider our "Ghost analyst" staffing product.
"Ghost analyst"
In a "Ghost analyst" or "Ghost employee" situation, Joseph is retained but (unlike the standard subcontractor position) is invisible to your clients. His work is anonymously conducted from behind the scenes while your firm gets full credit. Heck, G2 would be happy to sign an IP assignment contract to ensure the intellectual property he creates is fully protected. This product is particularly useful to H.I.T. vendors or mHealth organizations that need "Oz" (man behind curtain) like help. Consulting and analyst firms may also benefit from ghost services. How? Think about your backlog in projects, your deadlines, late client deliverables and your "publish or perish" pressures to produce. G2 is neutral and doesn't directly compete with the big firms and should therefore be considered an ally, not a competitor. Because of this, G2 is in a very unique position to assist other consultants or analysts as a ghost employee.
A good example of this product would be a G2 commissioned writing assignment whereby your firm gets the "byline" even though G2 "ghost wrote" the report. G2 has been engaged on a number of ghost and subcontracted projects and looks forward to working on many others.
The next time you're busting at the seams, "Think G2".
Advertised job vacancies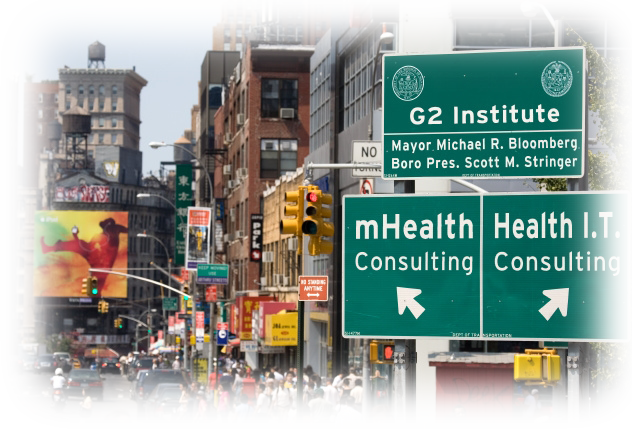 Our third executive staffing product variation helps you fill advertised mHealth job vacancies.
Pick up any trade journal or examine virtually any employment website and you'll soon realize, the facts are clear. There just aren't enough mHealth / Health I.T. savvy executives to fill the ever growing demand. And guess what? If you think it's bad now, G2 predicts staffing shortages will only increase over time. We therefore feel it may be time for management and human resource professionals to realize the traditional employee fulfillment model is, well…broken. Why not think consider the benefits of immediately filling your vacancies by utilizing G2?
In fact, there are so many benefits derived by your G2 relationship that we've created a dedicated section to highlight them all!
Under this product, G2 could be immediately retained for any suitable mHealth executive vacancy on an interim basis. As we're sure you know better than us, in today's environment it's common for executive level positions to remain open for a year or more. All while your urgent need to retain an executive – grows. Why wait? G2 now provides placement for temporary executive assignments.
The way it works is simple, Joseph is hired for a mutually agreeable length of time with an "escape clause" providing an "out" for the client if their perfect candidate is hired. Then there is often a few week time period where we pass the proverbial baton and train your new executive. G2 doesn't quibble; we're happy to work via a 1099 or a W2.
Benefits
As stated above, we have another page listing the macro benefits of G2. It works, but suffers from the one-size fits all syndrome. So allow us to provide some specific Executive Staffing benefits:
G2 could hit the pavement running and be immediately productive with little to no training / orientation.
G2 typically does not require supervision once the project is explained.
G2 could help to maintain your company's momentum by immediately filling key mHealth executive vacancies.
G2 brings over 30 years of experience to the table and may provide immeasurable business contacts to your organization.
G2 does not charge a head-hunter or placement fees.
G2 provides flexible hours and remote location work – so no overhead costs!
For more benefits of G2 – please see this page.