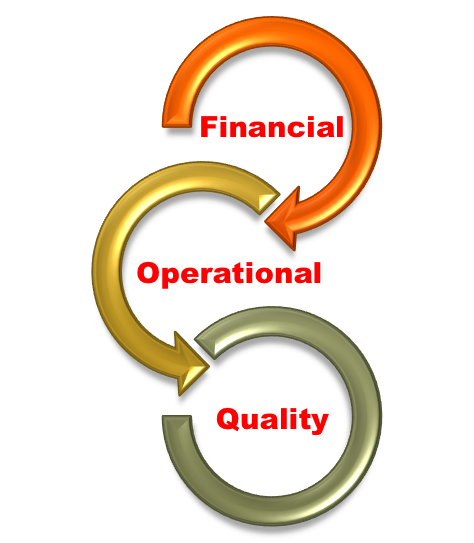 This section explains some macro level benefits derived by your G2 relationship. Please note that "benefits" are slightly different than the aforementioned "perks", "incentives" and "freebees" provided by the Challenge and automatically included with certain products. Our diagram in the Perks section may help explain how these all interrelate. We mention this because you'll need to consider the totality of such factors when evaluating your decision to retain G2 as they all translate to hard dollar savings.
We hope you'll keep all such savings in mind when comparing us to other consultancies. We're sure if you do, we're be at the top of your short list.
We've grouped our benefits into three buckets as illustrated by the adjacent diagram that utilizes circular arrows to indicate they dynamically change with every project. Because of this reason, we cannot simply hand you a G2 ROI. But we can assuredly tell you this — you'll find no analyst think tank or consulting firm able to provide higher quality services at a more affordable price. So before you make your choice to retain any consultancy, please consider the following G2 benefits:
50%

lower per diem rate than industry standard.

35%

subcontractor profit margin.

29%

overhead cost savings.

10 – 20%

annual salary savings by foregoing a bonus to G2.

33%

annual salary savings by not utilizing a recruiting firm.

??%

savings for "clock time" billing (no round-up).

??%

savings for higher quality client deliverables.

??%

savings for higher staff retention and moral.

??%

savings for the other items cited on the following pages.
Don't forget that in addition to the above benefits, you may also receive:
All of the benefits of taking the G2 Challenge!
All of the perks provided if you convert from the Challenge to a client!
All of the incentives built into the Alpha product levels!
Why G2?
After reviewing our perks, incentives, freebees and discounts, we're sure you now understand why G2 is such a good choice.