This section reviews Joseph's international experience. Below, please find a presentation containing:
A documentary movie of Joseph's work in Africa.
A slideshow of his work prepared for BMI-Africa.
Two photo slideshows.
Click for G2 site tip

The below slideshow may appear to be a single presentation. However it contains a one hour documentary movie by Joseph, a slideshow of his work in Africa and two photo slideshows. To navigate between the material, please click the number button at the bottom or hover over the slideshow and click the right arrow that appears. Note, because of the mixed media, you will need to manually advance the slides within each presentations.


Somehow between a hectic corporate career, Joseph managed to straddle many humanitarian and philanthropic endeavors. Over the years, he's worked on various projects with several respected nonprofit organizations that spanned the globe.

REMEDY at Yale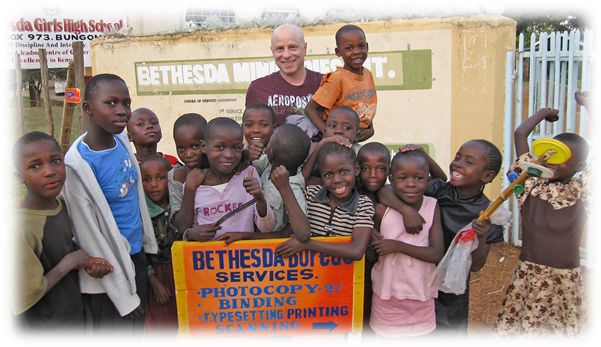 REMEDY is a 501c3 based out of Yale New Haven Hospital, Department of Anesthesiology that is "dedicated to actively promoting the recovery of unused medical supplies for the purpose of global aid, waste reduction, and cost-effectiveness". Founded in 1991, REMEDY promotes the practice of recovery of exposed-but-unused surgical supplies that are then provided to sister hospitals in developing nations. REMEDY's goals are to provide international medical relief while reducing solid medical waste from U.S. hospitals.
Joseph volunteered a year of pro bono time as the original Administrator. It was a wonderful experience that subsequently lead to a Board of Directors position at Yale.
Citizens Democracy Corps.
The CDC is an international organization that helps small and medium enterprises (SMEs) in developing nationals by leveraging public, private and volunteer resources. Joseph was sent to Bulgaria as a good will ambassador for the United States to assist in healthcare privatization efforts. Based out of a 5,000 bed regional hospital, Joseph spent a summer working with the President, key executives, politicians and Bulgarian government officials on a host of healthcare initiatives. He later prepared an analyst report for the CDC and various U.S. government agencies.
Adventist Development and Relief Agency (ADRA)
ADRA is an international relief group run by the Seventh-day Adventist Church. ADRA works with people in extreme poverty in regions throughout the world to "create just and positive change by empowering partnerships and responsible actions".
Joseph was sent by ADRA to Zimbabwe and Zambia, Africa to provide his administrative, epidemiological and tech skills to a remote "bush hospital" and remote clinics. He automated the hospital's information systems and assisted on a number of healthcare outreach projects with various indigenous tribes.
BMI-Africa
Bethesda Ministries International (BMI) is a Kenyan based Christian organization working in Rwanda, Tanzania, Uganda and Kenya to improve the quality of life to people of all faiths. BMI runs a successful feeding program, water distribution program, schools and healthcare clinics as well as over 200 churches.
Three years ago Joseph became the first "United States Director" and continues to help BMI on various humanitarian projects.